Installation
1. Put all folders from "lpm_2.0_Public.zip" in 3ds max root
2. Restart max
3. Find lpm macroscript in "Altspace" category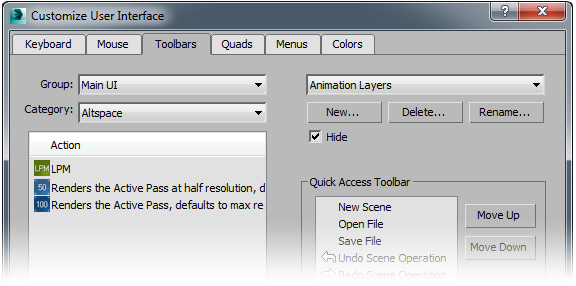 4. Drag and drop the button on the panel
Tips
At first run set up main LPM settings like this
Always fill main render output with extension that you will use in LPM output. Never leave it empty.
Never edit LPM parameters with Auto Key turned on. Otherwise parameters will be animated and work incorrectly. To check if you made this mistake, just select all objects from layer "zz-LPM" and make sure that there is no keys in timeline. If keys exist, delete them via alt + right mouse button click.
Always try to use layers in object sets and light sets instead of selection. It's more convenient and fast way of working.
Avoid fast manipulations in main treeview. It's old dot net element, not very stable. So try to click little bit slower 🙂